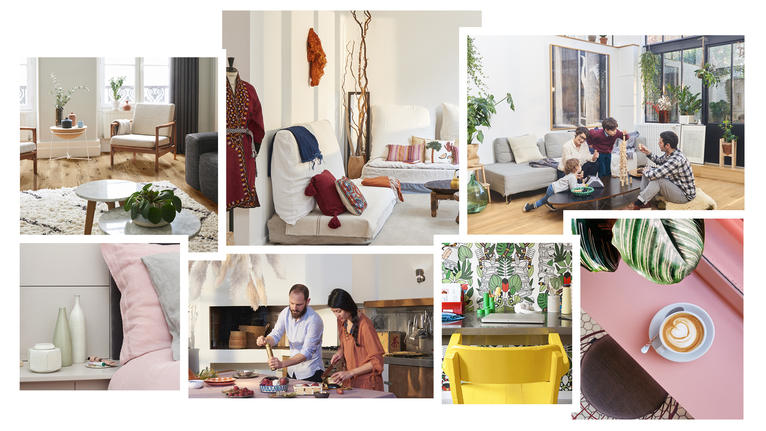 Finding your home decoration style
Our homes and the way we decorate them are influenced by design trends, but, above all, they're an expression of who we are, our values and our uniqueness. Influenced by our lifestyles, our home interiors become an extension of ourselves.
To help you decorate your home and find your style, here are four trends to inspire you: Urban Cocoon, Eclectic Home, Green Factory and Colourful Place.
Being on-trend means choosing the home decor that best suits you!
Which one will you choose?
Creating an urban cocoon
You're looking for a little peace and tranquillity in today's fast lifestyle, and you want your cosy, elegant interior to reflect that. If you want to feel a sense of calm, balance and harmony in your home you need good, simple, solid elements that are modern, easy to live with and full of charm.
Your new urban, retro yet modern, romantic cocoon is influenced by Scandinavian style. For daily inspiration, you look to the Danish art of happiness: Hygge.
Neutrality is vital; this aesthetic reflects what is essential in life. Less is better. Everything is carefully chosen. You're looking for an ethereal, sensorial form of classicism: beauty and emotion, with an undercurrent of discretion. You opt for warm neutral tones, refined pastels with grey touches for contrast.
The eclectic home, mixing styles with elegance
Reminding you of your wonderful trips abroad, your interior home decoration is like your own personal travel journal. As a world citizen, you're curious and cultivated; you love traveling and discovering different cultures. Your home decor satisfies your desire to discover the world. Eclectic style is all about mixing different designs with harmony. Your taste for a blend of rich, distinctive colours, textures and objects reflects your love of diversity. Effortlessly cool, you're open-minded and looking for new experiences. Your decoration is a blend of travel memories and craftsmanship from around the world. You like pigmented colourways, washed out tints and precious touches weathered by time.
Green Factory, home to your values
You're looking for the right balance between modern life and traditional values. What matters is kindness, indulgence, sharing and conviviality. Authenticity and transmission are the keywords and being welcoming is more than just an attitude: it's your mantra.

You want to reconnect with your environment, feel and get closer to nature and contribute to protecting the planet with a more sustainable way of life. Your home is a haven, helping you strike that balance. You want to build your own lifestyle by consuming intelligently and sharing with your family and friends. Your colour choices are guided by nature, composing a timeless palette with plant, mineral and earthy nuances.
Colourful Place, the optimistic home
It's time to re-enchant daily life with playful decoration. You're optimistic and wild about colour, so give free reign to your imagination and shake up your world! Curate your home with your own personal mix of vintage home decor elements, emblematic designer pieces and exclusive objects. You love the little details that make a big difference. Get ready to break the rules.

You look for new forms of quiet rebellion in a world you tend to find too orderly. You like to be amazed and astounded. You crave singularity, and you express your uniqueness by designing your own attractive and sensational Pop Art Interior. Your bold choice of high-impact colours livens up a classic neutral base. You love contrasts and chromatic patterns.

Project in collaboration with NellyRodi with the participation of Clarisse Lebosse and Valérie Pavard, Tarkett designers.